Learn Your Way: Read, Watch, or Do
Read the docs
Find out more about the Citus concepts, architecture, cluster management, APIs, use cases, & performance tuning.
Watch the videos
See how Citus scales out Postgres and parallelizes your workloads via these YouTube videos. Tip: turn on captions.
Try the tutorials
Learn how to use Citus by using sample data in these short tutorials. For time series data, check out the use case guide.
Try Citus Right Now
Citus Open Source
You can download and install Citus open source packages for Docker, Ubuntu, Debian, Fedora, CentOS, and Red Hat via these simple steps.
Citus on Azure
You can stand up a Citus cluster in minutes with the Azure Cosmos DB for PostgreSQL managed service.
Sharding on a Single Node or Multiple Nodes
Using sharding and replication, the Citus extension distributes your data and queries across multiple nodes in a cluster, to give your app parallelism as well as more memory, compute, and disk. Citus is available as an open source download and in the cloud as a managed service. Azure Cosmos DB for PostgreSQL makes it easy to stand up a managed Citus cluster in minutes.
As of Citus 10, you can now shard Postgres on a single node, too. So you can adopt a distributed data model from the start to parallelize your queries—and be "scale-out ready." Single-node Citus can also help to simplify your CI/CD pipelines.
How Citus Works
Learn how Citus works in this talk about Citus table types, the PostgreSQL extension APIs, the Citus query planner, and performance benchmarks comparing multi-node Citus clusters to a single node.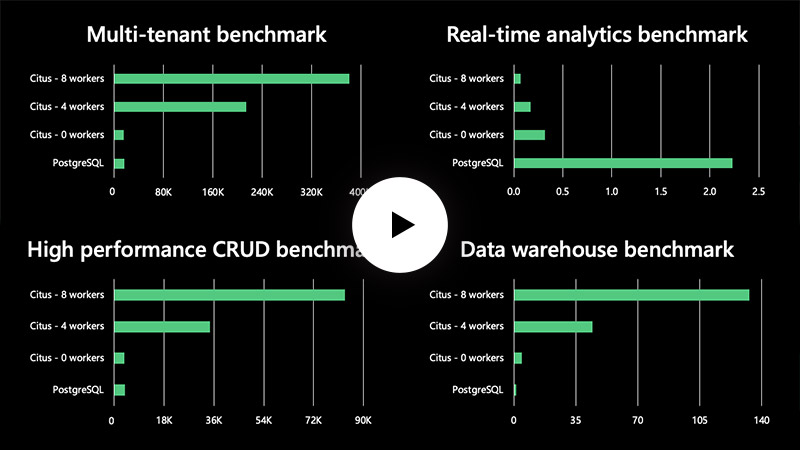 Frequently Asked Questions